Basement Excavation for your Denver Home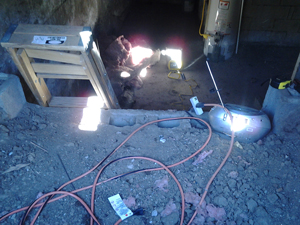 The project pictured on the right is indicative of homes in the Denver area where basement areas were finished, but with limited head height. The owners or previous owners did some dig out and got just enough head height to get by. The new owners called Alpine to remove the existing concrete and some of the dirt floor and dig it down another couple feet to get proper head height. Foundation walls are the biggest thing the homeowners over look is when they remove the concrete and the 1-3 feet of dirt that exposes the bottom of the foundation walls, (THEY NEVER EVEN THINK THAT YOU HAVE TO ADDRESS THE FOUNDATION WALLS AS WELL) so we have to not only pour the new floor but we have to shore up the house and pour new foundation wall extensions as well.
Alpine Companies has been the pioneers in the crawl space to basement conversion arena here in Colorado for almost 50 years, as well as leaders in the basement excavation service. The reason Alpine Companies services are chosen by most clients is we have an extensive background in foundation repair here in Denver Colorado. The last thing anyone should do with the biggest investment of their lives is trust a company converting your basement that does not have many, many years of structural repair projects under their belt. You can tell the inexperienced companies from the experienced companies from their warranty. If the company you are considering does not provide an in house structural warranty of at least 1-3 years, than they are not the company for you. Or, if they provide a second party warranty, they are not the company for you. This means they are not confident enough in their work to stand behind it.
Alpine Companies guarantees the highest quality basement excavation at the best possible price!
If you are considering basement excavation to gain head height, you need to be aware of one thing. Once we go lower than the existing floor it will expose the bottom of the existing foundation walls and these walls will have to be extended down as low as you have Alpine take the excavation for the new floor height.  Alpine starts with a detailed inspection of the homes existing floor, wall and footing. From here we provide you a detailed estimate of all steps needed to complete your basement excavation project.
Basement Renovation Gallery
---
Please call or CONTACT Alpine today at 303-797-8908 for all your basement excavation needs!
---