Brick Repair, Tuck Pointing
Alpine companies offers custom brick and stone window wells for the

perfect blend of function and elegance.
Our Latest Masonry/Foundation/Brick Project
Alpine offers interior and exterior installation and repair services, as well as masonry restoration, tuck pointing and historical renovations.
If your lucky enough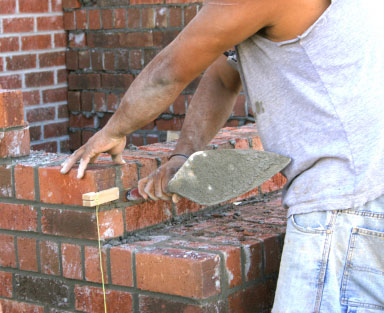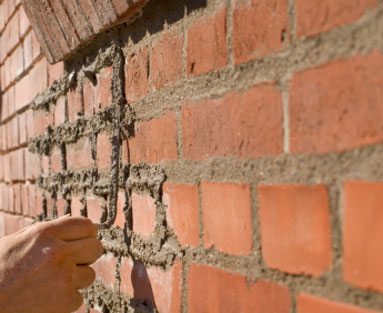 to own one of the architectural marvels in Denver then you'll want to restore it the right way, the first time. Tuck pointing is not a job for a handyman or a day laborer. Once a repair has been done to the brick or stone, you are stuck with the outcome, and you absolutely do not want to pay for a poor quality restoration project. Most of the time it costs twice as much to fix a brick or stone mess-up than doing it right the first time.
Stone Foundations on Historical Homes in Denver are usually very thick, because builders were aware of expansive soils even a hundred years ago. The main problem with these homes over the years is there was not proper drainage to carry water away from the house; many times using a wall drain on the lowest side of the house to try and drain water away. Structural stone foundations usually don't lean one way or the other, but are damaged internally and externally by Denver's harsh freeze and thaw cycles of winter.
Stone, Brick and Masonry walls are also damaged by water and frost freeze cycles, and the mortars used were more than likely a soft lime and sand mix that actually stood up quite well for over a hundred years, but now needs a major Tuck Pointing job done to stop the walls from completely crumbling.
Our customer wanted to remove the existing back access door, and re-brick to match the existing homes exterior structure. Lacing and tuck pointing the new bricks to the existing is the only way to keep the structural integrity of the wall intact. As well as have the brick repair look like it is a part of the original wall and almost non existent once the mortar has had the proper time to dry.
Loose stones are a common problem with these old houses, and you must fix them now or you'll be re-doing more restorations on your homes interior than you bargained for. Repairs and additions to these Historical homes were often not up to the standards of the original builders, and they weren't always structurally sound, which causes a whole new set of problems for all future owners.
Below is Harold M Lesser II (Jay) actual house and masonry brickwork he installed himself. The decorative brick veneer was installed four feet up the wall and around the perimeter of the entire living room. Brick veneer is the perfect product for interior accent walls to full custom build-ups, as well as a quick and easy way to achieve that very special elegance you are looking for.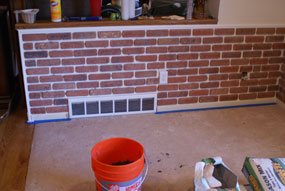 Alpine Companies guarantees the highest quality brick repair at the best possible price!
---
Please call or CONTACT Alpine today at 303-797-8908 for all your brick repair needs!
---