Historical Restoration
Alpine Companies has been trusted by the Historical Society of Colorado for many years. The Smith Mansion hired and fired several other companies before Alpine took over and restored the roof, fireplace and brick.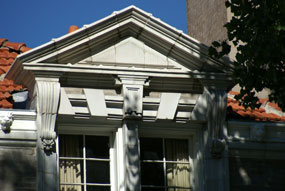 Historical Homes are one of our specialties at Alpine Companies in Denver, Colorado. We have been repairing stone foundations and structural repairs, as well as tuck pointing of brick and stone walls the right way for 4 generations!
Tuck pointing is not a job for a handyman or a day laborer. If you are lucky enough to own one of the architectural marvels in Denver, then you'll want to restore it the right way one time and do it correctly.
Stone foundations on historical homes in Denver are usually very thick, because builders were aware of expansive soils even a hundred years ago. The main problem with these homes over the years is there was not proper drainage to carry water away from the house; many times using a wall drain on the lowest side of the house to try and drain water away. Structural stone foundations usually don't lean one way or the other, but are damaged internally and externally by Denver's harsh freeze thaw cycles of winter.
Stone, brick and masonry walls are also damaged by water and frost freeze cycles, and the mortars used were more than likely a soft lime and sand mix that actually stood up quite well for over a hundred years, but now needs a major tuck pointing job done to stop the walls from completely crumbling.
Loose stones are a common problem with these old houses, and you must fix them now or you'll be redoing more restorations on your homes interior than you bargained for. Repairs and additions to these historical homes were often not up to the standards of the original builders, and they weren't always structurally sound, which causes a whole new set of problems for all future owners.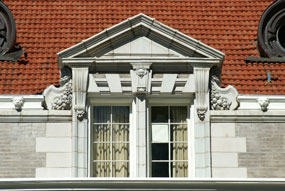 Building codes were almost non-existent when these older homes were built, and bringing them into the 21st century is sometimes a real challenge, or a nightmare if done by the wrong company.
New insulation, windows, siding, central heating and air, is just the beginning; you're going to be addressing all these problems in addition to issues like drainage from water, moisture, mold, asbestos, lead based paint, and the structural ramifications caused by all these problems.
Alpine Companies can help you every step of the way. One of the most important things to know about historical restorations is knowing what to fix and what to leave alone. We'll start where every building must start, with a good foundation that will last another hundred years with no problems.
[well]Alpine Companies guarantees the highest quality historical restoration at the best possible price![/well]
[hr]
[well]Please call or CONTACT Alpine today at 303-797-8908 for all your historical restoration needs![/well]
[hr]